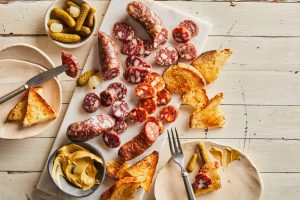 Justin Severino bills a long list of accolades.
In 2016, his Spanish-inspired, Lawrenceville restaurant Morcilla ranked number four on the highly-respected Bon Appétit Hot 10. In 2014, Justin was named the People's Best New Chef for the Mid-Atlantic region by Food & Wine magazine; in 2015, he won again. His cured meats put his restaurants — Morcilla and the now-closed Cure and Larder of East End — directly into the local and national spotlight. On top of all that, the chef and skilled butcher is a four-time James Beard Award nominee.
But when talking to Justin, you can see that these awards and celebrations — while a huge honor — have not altered his commitment to a passion: charcuterie. It's simply moved him along a little faster.
"[I'm not satisfied by] people knowing who I am," he said, sitting at a table inside the Lawrenceville Salty Pork Bits store, the business he founded to sell his charcuterie. "I am excited about the sausages that parents want to buy and make their family dinner with."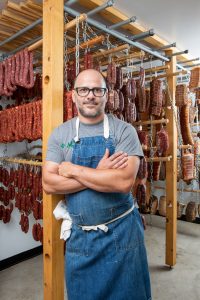 Justin, a native of Ohio, found his passion for cooking after high school. 
"All of my friends were eating garbage," the chef said, referencing his time working in construction while his roommates and friends were in college. "I said, 'There's no way I'm going to eat this way."
So, Justin began spending a lot of time with his mom and grandmother on the weekends — he grew up in a family of "very Italian-American people" — learning how to cook. Eventually, after a winter working construction in Ohio, he decided to go to college. He ended up at the Pennsylvania Culinary Institute, which he quips was the "best bad decision I ever made."
From Pittsburgh, Justin moved to California. Working in restaurants on the West Coast changed how he thought about food; instead of techniques, he began to think about where his food came from. 
This made Justin — a chef that has built his career on butchering and curing meats — stop eating meat for a time.  
"Meat became a focus for me when it came to food ethics," he said "One of the things I thought, first and foremost, was that I had never taken the life from an animal. I thought I should take life from an animal if I was going to eat animals in the future."
A stint volunteering on a farm during slaughter days pushed Justin towards butchering. This turned into a "total obsession" over pigs —Justin estimated he's butchered over 1,000 pigs in his career — and with a van and space in a community kitchen, he started a butcher shop at a farmers market named Severino's Community Kitchen, where he explored the craft of salami and butchering.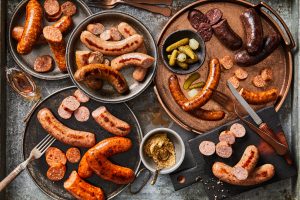 Fast forward a few years, and after a short time in the kitchen at Eleven, on a farm in Virginia, and running a now-closed Downtown restaurant named Element, Justin opened his first solo eatery in Pittsburgh: Cure. 
Cure was one of many stepping stones towards Salty Pork Bits. Opening a charcuterie business without any background in Pittsburgh was risky; butcher shops, to Justin, were a failed concept. Even though most people wanted to buy high-quality things, they wanted the supermarket price. 
Cure gave Justin the notoriety to open Morcilla, operating today as a restaurant and the hub for Salty Pork Bits. 
Justin jokingly refers to his curing room in the basement of Morcilla as the "cutest salami dojo you've ever seen." 
But it was the pandemic that propelled Salty Pork Bits into what it is today. 
"COVID hit, we closed everything, and the orders started flying in the front door," recalled Justin. 
Salty Pork Bits has transformed since its original form, launched first in 2018. Today, there's a comprehensive marketplace of salami, cured meats, subscription services, and dry goods — many of which you can find on Harvie. Justin plans to focus energy on expanding Salty Pork Bits, as he says: "I love restaurants — clearly I have to — but people knowing how to cook is essential. Having good ingredients is essential."
Justin's accolades aren't for nothing; his salami and sausages are delicious. Don't miss out! Add Salty Pork Bits salami and packaged sausage (a Harvie favorite is the Spanish Chorizo!) to your next grocery box.
New to Harvie? Become a member today.  Visit eatharvie.com to sign up!