We are happy to announce Harvie Farms Pittsburgh, a new service that brings together the best local farms in the Pittsburgh area, allows you to customize your farm box before each delivery and then brings the harvest right to your doorstep!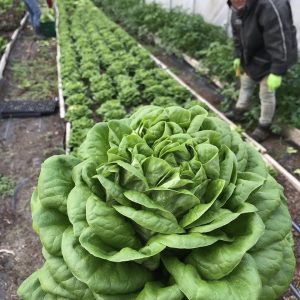 Lettuce growing at one of our farms, Who Cooks for You Farm in New Bethlehem, PA
We know you love local food, but it's often hard to make it to the farmers market, CSA programs can be inflexible, and the "local" claims of grocery stores are dubious at best.
To make it easier to love local food, we are happy to announce a whole new way to get access to fresh food directly from your local farmers: Harvie Farms Pittsburgh.
In the local farm community here in Pittsburgh and across the country, we recognize that food buying habits are changing.
We are a group of experienced local farmers, distributors, and farm technology folks who want to make it easy for you to get access to the most quality local food for your home kitchen. Think of Harvie Farms Pittsburgh as the ease of online shopping, Amazon, and home delivery meets the unique tastes and freshness of CSAs and farmers markets.
We have been running the successful Harvie platform (we are a Pittsburgh-based technology company) across the US and Canada for the last four years, with over 150 farms using the platform delivering over 500,000 farm boxes to 50,000+ consumers. Now it's time for us to bring Harvie to our hometown: Pittsburgh!
I'll tell you more about "us" later. First let's talk about what we can do for you!
Why Harvie Farms Pittsburgh?
We work with multiple farms across the Pittsburgh region so your farm box can include vegetables, fruit, cheese, eggs, bread, meat, milk, and more!
Home delivery (or delivery to your office!) to the city of Pittsburgh and near suburbs.
Customize your box each week so you get exactly what you want and nothing you don't.
Get your farm box on your schedule! When you are out of town, just pause your box or reschedule it for another week.
Built in cooking and recipe tips plus connect with farm share members all over the world (literally!)
So how does it work?
Start at the sign up page: https://www.harvie.farm/signup/harvie-farms-pittsburgh
Pick a farm box, small ($29), medium ($49), or large ($79) — plus a $6 home delivery fee — which will include a full customizable product selection each week.
Choose a frequency of delivery: weekly or bi-weekly and remember you can schedule around your needs.
If you want beef or pork, choose a customized butcher box for delivery once per month from Jubilee Hilltop Ranch.
Complete contact info and payment info.
(Optional) Set product preferences so Harvie knows what you like and what you don't like and we'll pre-customize based on your product preferences.
Wait for deliveries to start in late May!
Our initial run will be for 26 weeks from late May to mid-November.
We are looking for 250 families to join us for this first season to make Harvie Farms Pittsburgh fly!
To encourage you to join us, use the coupon code FIRST250 to get $29 off your seasonal farm box. Sign up here:  https://www.harvie.farm/signup/harvie-farms-pittsburgh
Next I'll be in touch to tell you about our farmers, who "we" are, and why we are doing this!
If you have any questions, just respond to this email and I'm happy to talk.
-Simon Huntley (CEO, Harvie) & Neil Stauffer (General manager, Harvie Farms Pittsburgh)
412-352-9673
https://www.harvie.farm/signup/harvie-farms-pittsburgh