Simple Kale Chips by Calien Fisher, Developer Crew at Harvie
This week was our first Rivendale share delivery here at Harvie headquarters, and the only thing cooler than seeing our system in action first hand was getting the fantastic fresh produce!
Everything in my Rivendale box was generously portioned, perfectly fresh and bundled, and all around awesome.
The first thing I made with my share was simple kale chips. My elder son (who is my hardest case when it comes to veggies) walked in while I was prepping them and said "are those kale chips?!"
They might not look like much, but they are easy and delicious!
Simple Kale Chips
Ingredients
1 bunch kale
1/2 tbsp olive oil (approx.)
seasonings of choice
Instructions
Cut the kale down from the top with kitchen scissors until the stem starts getting thick, then rip off any leaf remaining on the stalk.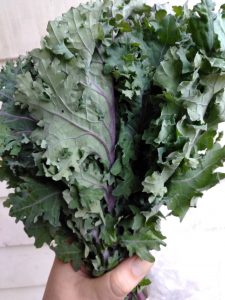 Kale from Rivendale Farm
Place cut kale in a mixing bowl, add enough olive oil to very lightly coat the kale.
Add seasoning of choice (I just used salt, pepper, and garlic powder).
Toss/mix like you would a salad.
Arrange seasoned kale on a baking sheet (I used parchment paper to make clean up easier!).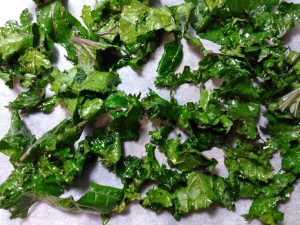 Bake at 280 for 18 – 24 minutes, depending on how crispy you want your chips to be.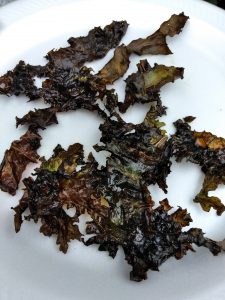 Enjoy!