Our Mission
We want Harvie members to be able to have and maintain a direct connection to the people who produce their food. We believe that empowering producers and members to maintain genuine relationships with each other brings enormous benefits to the land the food is grown on, the people who consume it and the communities that grow from it.

Sustainability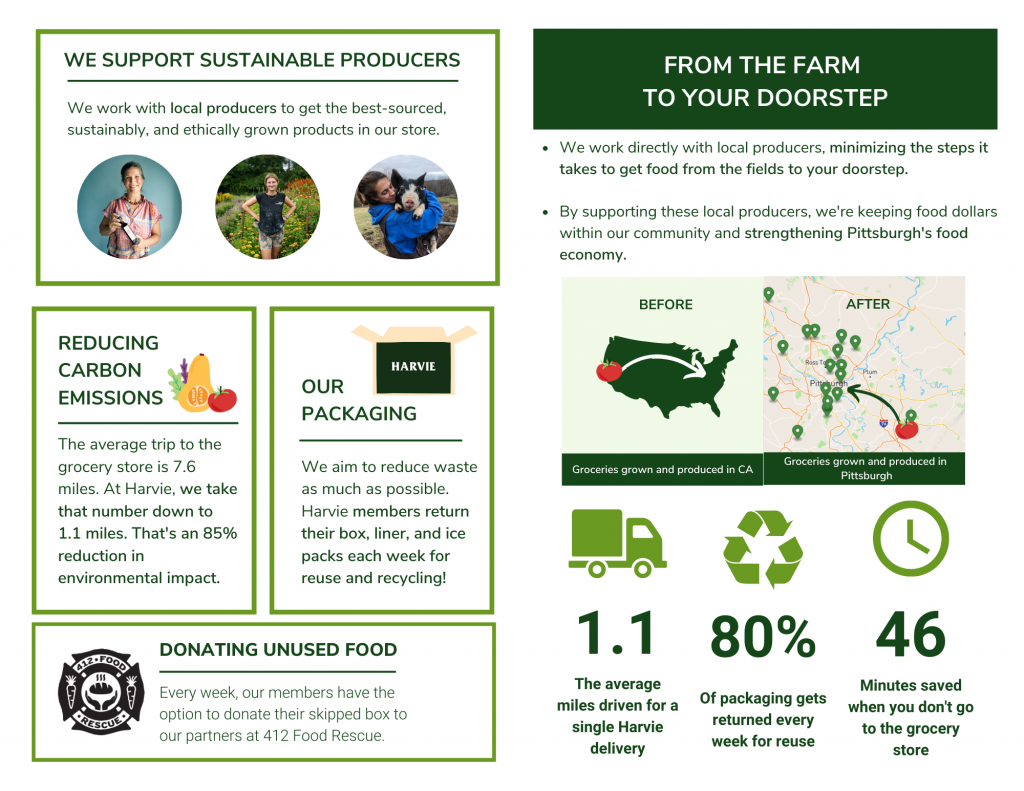 Download this page.
Sourcing standards
How do we choose which products and producers to work with? We are always trying to improve, but these are our principles in all of our sourcing:
Quality — We strive to source the best tasting, freshest, and most nutritious products.
Local Economy — We prioritize purchasing from business owners who have a direct connection to your community. When a product you need is not available locally, we'll find the best version of it that we can according to our standards.
Good Stewardship — We work with producers who are good stewards of their land and animals. Whenever possible we will source from farmers who use organic and regenerative growing practices, and will always avoid those that abuse pesticides and the people and animals under their care.
Human Impact — As Harvie grows, we aspire to build relationships with producers that raise industry standards for transparency, living wages, diversity, equity and inclusion.
Viable Rural Communities — We strengthen rural economies by connecting rural producers with consumers in urban areas.
Story — We build connections between you and your producers by telling the stories behind the food and the people who create it and by inviting you to connect in person when possible.
Transparency — You deserve to know everything you can about what you put on your family's kitchen table. We always label products accurately, verify certifications and tell you everything we can about the products you purchase.
Resilience — We believe in building a diverse network of producers and products and shortening the path between producer and consumer to create a more resilient community food system.