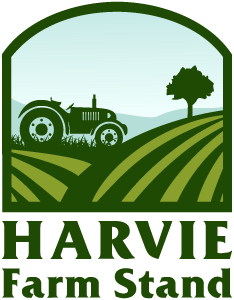 Not quite ready to be a member?
If you want to support your local farms and eat healthy but cannot commit to a full farm share subscription, you can use the Farm Stand option to purchase a single delivery. Once you sign up for our email list, you'll continue to receive notifications when we have one-time farm stand shares available for home delivery. To begin a subscription, please choose a share option below.
About us
Harvie Farms Pittsburgh delivers local farm fresh products grown right here in Pennsylvania directly to your home. Like having the farmers market brought right to your door, each Harvie Farms box is completely customized to your preferences.
We partner with farmers from western Pennsylvania and the surrounding region including Who Cooks for You Farm (produce), Clarion River Organics (produce), 3 Springs Fruit Farm (fruit), Jubilee Hilltop Ranch (meat), Brunton Dairy (milk), Mediterra Bakehouse (bread), Pasture Maid Creamery (cheese), Hidden Hills Dairy (cheese), and Goat Rodeo Farm & Dairy (cheese) with more farmers joining us through the season.
Harvie Farms Pittsburgh is managed by Neil Stauffer, an intermittent local farmer with extensive ties to the farms in western Pennsylvania, including his management of Penn's Corner Farm Alliance for 10 years.
We are backed by the Harvie platform, a Pittsburgh-based technology company, which connects local farmers and local consumers throughout the U.S., Canada and Australia. The goal of Harvie is to make local food accessible to all by making it more customer friendly to buy from local farms.
Get cooking tips and learn about our farms and suppliers in our free "Harvie Farms Pittsburgh Community" on Facebook, for existing members and the general public.
Latest Farm Happening
Harvie Farms Pittsburgh Week of April 19, 2021
New Items: Organic Garlic Chives (Franklin Sustainable Farms) Organic Young Spinach (Lancaster Farm Fresh Cooperative) Stone Ground Yellow and Red Grits, Stone Ground Hard and Soft Bolted Wheat Flour, Stone Ground Rye Flour, and Emmer Berries (Castle Valley Mills) Seasonal Herb Pesto and Apple Maple Bourbon Jam (The Pickled Chef) Mount Nitanee... read more »
Our Delivery Area
Contact Harvie Farms Pittsburgh