By Jonathan Doron
Let's talk about what we can do with all of that parsley you just got in your farm share. If you're like me, then you know that the sauce is the boss. Today we're making chimichurri (aka "chimi"). It's so easy to customize, and so versatile, you'll have no problem finding a dish to include it in. Toss it together with some grilled vegetables (summer squash or potatoes), pour some on your favorite steak, or even smear it on a toasted baguette.
The foundation of chimi is very simple. You begin with garlic, red wine vinegar, olive oil, parsley, cilantro, salt, and pepper. If you're in the camp where you think that cilantro tastes like soap, or are simply allergic, feel free to substitute it with an equivalent amount of parsley.
Once you've got this base, the recipe is super flexible. But, before you start going and practicing chimnastics, there's two final decisions that you need to make. Whether or not you choose to include some form of onion and/or oregano is entirely up to you (I think they both add a nice flavor, and so should you). Be passionate about whichever combination you choose, and heckle anyone who tells you otherwise.
Now you can go crazy with whatever other additions suit your taste, or pair well with your final dish. For a spicy kick, red pepper flakes are hardly optional. Or, if you're feeling weird, fresh jalapeño is also an option. If you like your sauce more or less acidic, feel free to adjust your ratio of vinegar and olive oil. Just don't forget the red pepper flakes.
Ingredients
1 medium clove of garlic, minced or grated
1/2 cup red wine vinegar
1 cup extra-virgin olive oil
3/4 cup roughly chopped flat-leaf parsley leaves and tender stems
1/4 cup roughly chopped cilantro leaves and tender stems
Kosher salt or sea salt to taste
Freshly ground black pepper to taste
1/2 cup yellow onion or scallion, finely chopped (optional)
2 tablespoons oregano leaves (optional)
1/2 teaspoon red pepper flakes (optional-ish)
2 tablespoons minced stemmed and seeded jalapeño (optional)
Directions
Gather all the ingredients.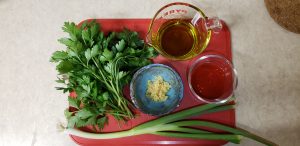 Throw everything in a medium-sized bowl, give it a good stir and season that bad boy with salt and pepper.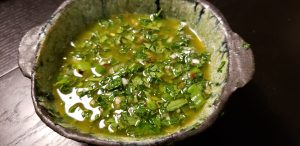 That's it!