By Mike Cuccaro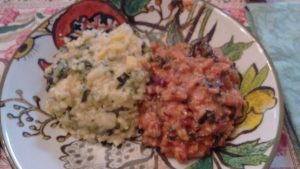 I was struggling one Saturday to get some free time so I didn't get to customize my Harvie share from Rivendale Farms. They always offer a big variety of stuff (curse them!) and the Harvie algorithm strives to create a variety of produce (curse us!) so I wound up with a large assortment of things to cook which would be great if every day of the week I could cook a different vegetable as a side dish. But, as it happens in life right now, it's really only the weekends that I get to do any cooking. So here it was Saturday and we'd barely touched Tuesday's box. What to do?
The one thing I had managed to do was make sure I had at least some savories (onions, garlic, leeks, etc.), solid veggies (carrots, beets, squash, etc), leafy veggies (chard, cabbage, kale, etc.), and optionally, fresh herbs (basil, oregano, parsley, etc.) because if you pick one from each of these groups, you always have a good backbone for lots of recipes. As it happened, I had a lot to choose from, so I decided to cook two big batches of risotto, mixing and matching from my share.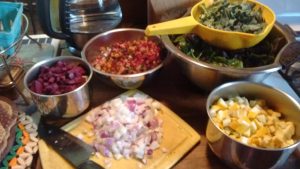 For one risotto, I planned to cook the pearl onions (savory), yellow squash (solid), baby broccoli (leafy), and basil (herb). For the other, I chose baby leeks and chard stems (savory), baby beets (solid), chard leaves (leafy), and basil (herb). The first step was a whole bunch of prep work. I tend to prefer to have everything cut up ahead of cooking. It feels like an accomplishment and takes away the stress of doing too much later.
Risotto is kind of a "fancy" but not really dish. I'm not going to look it up but I always imagine it was invented by an Italian peasant with a very very small water bucket and a well that was far away from the house. So the standard method of cooking until all the water is gone, constantly stirring so it does't burn, and then only adding a small bit more of water each time came about by necessity.
I probably don't need to go into detail about this recipe. Basically, fill the bottom of a big pot with olive oil and cook the savories until they soften up and the house smells like heaven. (ht Isabel Allende)Then drop in your solid veggies and cook them a bit – maybe 10 minutes? Then put in your leafy veggies and cook them down.
It doesn't all have to be cooked at this point because you're going to be cooking that rice with all this stuff for another half hour. It's hard to keep good track of time on this because risotto is a good cooking-with-wine dish. You won't need all of it so you can be calmly finishing the rest of the wine while waiting for the veggies. We had a subscription to Winc which was like a wine-of-the-month club. It's almost all blends from California and the one I used here was called Funk Zone. It was tasty.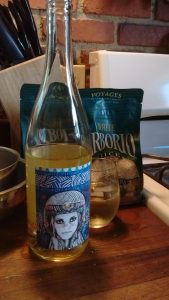 So when you're ready, you'll also have to have a big old pot of some kind of liquid going — chicken broth, veggie broth, or just water. As I was already using up my two biggest pots and two pots of two cups of arborio rice needed a total of sixteen cups of liquid (4:1 ratio). So I just kept refilling my electric kettle and just using water with a little of this Better Than Bouillon goo that looks like Marmite. Mostly I figured all those veggies would flavor it enough.
First thing is to dump the rice in dry and let it toast up in the oil for a minute or two. Then comes the wine (2:1 ratio rice:wine) and let that sadly cook itself away. Then drop in the first of the water or broth. You can go with the same amount of water as rice at first, stir that up and let the water cook away and then add 1 cup at a time whenever the mixture becomes hard to stir and makes little dry canyons when you drag the spoon through so you can see the bottom of the pot. The risotto will get creamier and creamier as you go. You know you are doing it right if you start to feel like Hans und Franz.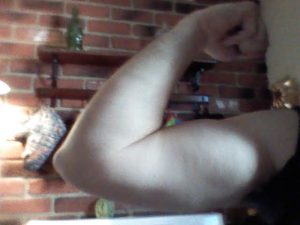 The last thing you'll add, basically when you've turned the heat off and used up all the water is a hefty amount of grated Italian cheese (2:1 rice:cheese) and the chopped basil. You shouldn't need salt. The cheese will do just fine and if you've forgotten that you ran out of cheese, you'll also need an awesome spouse to run to the store and the chillest baby in the world to hang out with you while you cook!