Potato Hash Tacos!
By Mike Q. Roth
The great thing about tacos is that you can make them out of most anything.  We're a vegetarian household so we usually do our tacos with a base of beans or something like tofu, tempeh or seitan but we also like to use potatoes and sweet potatoes as an option to mix things up a bit.  As long as you have some tortillas, you're well on your way.
Your farmshare can provide you with the raw materials for many different interesting taco combinations.  Today's recipe for Potato Hash Tacos uses a bunch of stuff from my recent farmshare, a couple other things I picked up at the farm market this morning, some things that I just had on hand and a couple things from a trip to the local Mexican grocery.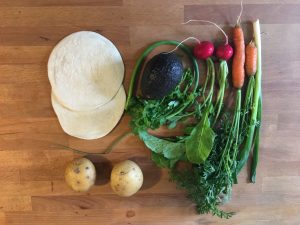 The ingredients
2 potatoes

1 scallion

1 garlic scape

2 small carrots

2 red radishes

1 avocado (optional but always so good on tacos)

Cilantro (also optional but likewise it helps make the flavor pop, unless you of course hate cilantro, then avoid)

Cheese (optional)

Tortillas

Hot sauce

Rice Vinegar

Salt, Pepper, Paprika and whatever spices you might like
This amount of ingredients was enough for 4 tacos.  Another great thing about taco recipes: they are easily scalable.  Just chop more stuff if you're feeding more people
Starting with the slaw (you want something crunchy on top of that taco!)
I made my slaw out of radishes and carrots – cutting them into small matchsticks and then letting them marinade in some rice vinegar and sprinkling them with some salt.  Prep these first and let them marinade while you prep the rest of the taco fillings.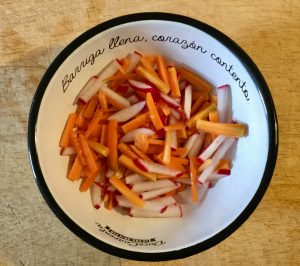 You can make this with any number of things in your farmshare – carrots, radishes, beets, cabbage, turnips, kohlrabi…really anything crunchy.  Just chop it up into fine pieces that'll go into a taco well and marinade. It's that easy.
Making the taco filling (you want something hot in that taco!)
For the filling I just chopped up the potatoes into small cubes (1/8″ or so) and tossed them in the frying pan with a bit of olive oil.  Cook them up just like you are making hashbrowns/homefries. Let them get a bit brown and crispy. Sprinkle them with a little salt and pepper. I added some of that good Hungarian paprika to give them a bit of a smokey flavor.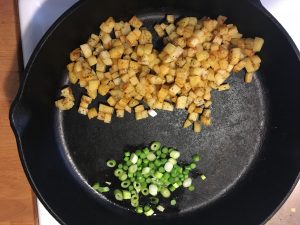 Right before the potatoes are done, I also tossed in the chopped up scallion and garlic scape. Fry that lightly and mix in with the potatoes.
Putting it all together
Once the potatoes are done, remove them from your frying pan but leave the pan on the heat.  I recommend taking your tortillas and tossing them in the pan to get them warmed up. If you are doing cheese on your taco, toss some on the tortillas and let it get melty (if that's your thing).  Keep the heat down a bit and don't leave them on too long or they start getting crunchy and burned. You just want to hit 'em with a bit of heat to warm them up.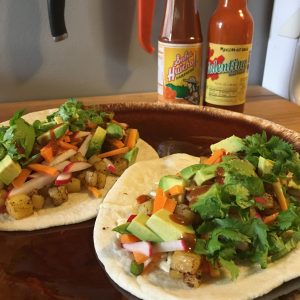 Scoop a couple tablespoons of potato hash into each tortilla, then a pile of the slaw on top of that, add some chopped up avocado on next, then the cilantro.  To finish things off, shake a little bit of hot sauce on there. After my wife and I spent two months in Mexico over the winter, we developed a bit of an affinity for Valentina and Salsa Huichol; highly recommended but you do you.
Preparation time
About 30-35 minutes from chopping to eating.  Probably a little faster if you team up with someone in the kitchen.
Recommended Listening
The Clash – self-titled album (just long enough to prepare the food and eat it)