Seasonal Food Ideas: Making Chive Blossom Vinegar
By Julie Inman, Harvie Sales and Implementation Specialist
If you are growing chives or getting them in your farm share or CSA in the spring, you will start to see these beautiful, purple, ball-shaped flowers emerge from the middle of the plant called chive blossoms. Ever wonder what you can do with them? One great idea is to infuse them to create a tangy, onion flavored vinegar!
The ingredients are simple!  All you need is:
1 1/2 cups champagne or white wine vinegar
2 1/2 cups chive blossoms, snipped right beneath the head
Glass pint jar
Lets get started!
Plunge the flowers in a bowl of cold water and gently swirl them around to shake off any dirt and bugs that may have found their way deep into the blossom.  Toss them into a colander and shake off the excess water.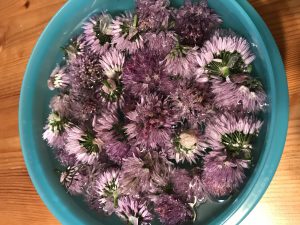 Heat the vinegar in a small saucepan over low heat until just warm, but don't let it boil.  The warm vinegar will coach the subtle flavor out of the blossoms.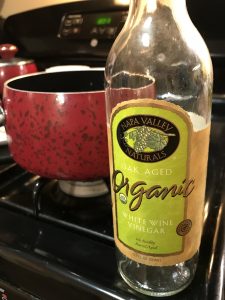 Stuff the pint jar with the blooms.
Pour the warm vinegar into the jar to submerge the blossoms.  Push the blooms down until they soak up all the vinegar and don't float to the top.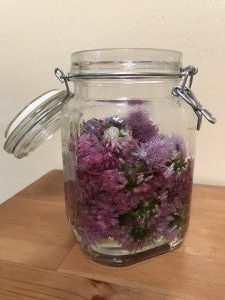 Let the vinegar cool.  If you have a pint jar with a glass hinged lid, then seal the jar.  If you have a metal lid, place a piece of parchment paper in between the jar opening and the lid and then seal it.  That way, the vinegar won't erode the metal lid.
Allow the vinegar to steep in a dark, cool spot for about 1 – 2 weeks.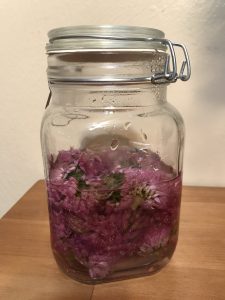 Taste the brew to see if you are satisfied with the flavor.  When you are ready, strain the blossoms and toss them. Pour the vinegar into your favorite, glass bottle with a rubber stopper and display prominently.  Enjoy the beauty too!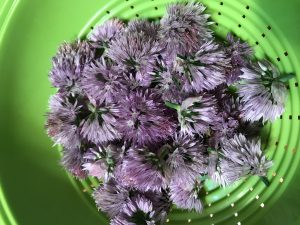 UPDATE: Here is a picture of the finished product!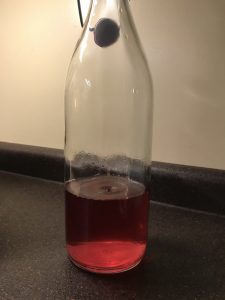 Be sure to stay tuned to our blog for many more features on seasonal food ideas!