By Mike Cuccaro,  Harvie Development Crew
It's Father's Day so I got a chance to do one of my favorite things: cook! I love doing bulk cooking on Sundays with what I've gotten in my Harvie share from Rivendale Farms and had doubled up my order of pearl onions and chard this week to cook a big pot of beans. That's the best thing for me about Harvie. The meal-planning aspect! Instead of figuring out what to do with 9 different things, I'll narrow my choices to fit my narrow window of opportunity. So, let's set to it.
First thing I did was cut up those pearl onions. But they were so beautiful whole, I couldn't bring myself to chop them fine. Instead I figured I'd try quartering them. Because they're going to get slow cooked and pearl onions taste good boiled whole I figured this could be a good compromise. Then, I got to the chard. One reason why I often swap kale for chard is that I don't have any use for the kale stems but chard stems make a great soup base. I rip the leaves from the stems and then chop the stems up fine. At this point I get out the crock pot and fill the bottom with olive oil. Then I throw in the onions and chard stems to coat and get the flavor started.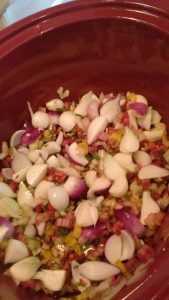 While that's going on, I go down to the pantry to select a bag of beans. We make regular orders to Rancho Gordo in California. I know it's not local but these beans are amazing. I don't think I've ever had even a single bad bean, much less a batch. I picked out some Goat's Eye beans which are one of my standbys. You still have to rinse them up but I never presoak them. They are so good they don't need it. Then, partly because it saves on counter space and partly because I enjoy the act, I rip up the chard leaves with my hands rather than chopping.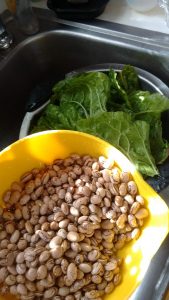 Next, I pour the soaked beans into the crockpot and mix them around with the savory veggies. I pour enough water over top to cover by about 2 inches. I never measure how much this is. Sorry. This is also the point where any bad beans will float up to the top and say, "I'm a bad bean. Get me out." None floated up of course.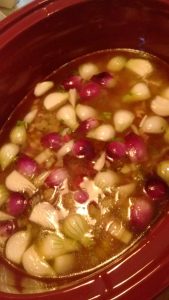 Last, I take the torn chard leaves and pile them on top. These are great for weighing down the beans and keeping them submerged so they'll cook well. Then, just lid it and quit it! "Hey, where's the salt, dude?" you might ask. That's the trick to good dried beans. NO SALT until the very end. Otherwise they'll harden on the outside.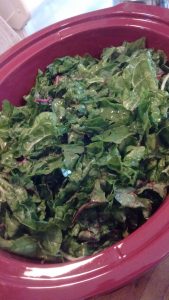 After maybe half an hour after the chard has steamed down to a manageable pile I'll submerge the leaves around the edge of the crockpot so they're not burning to the sides of the crock pot.  After a few hours I'll check the level of the water but otherwise just leave everything alone. In maybe another hour more I'll test a bean. If it's tender, then at this point I'll add some salt and turn the beans down to warm until dinner time. We might serve with rice or bread or pasta. Meals for the week!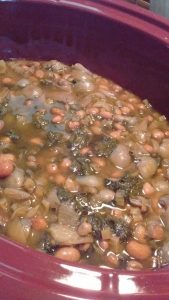 This particular day my wife had reminded me that we had some vegan chorizo that should have been eaten a few days earlier. So instead of spicing up the beans, I just browned the chorizo and let the beans mellow out the flavor and serve with chips.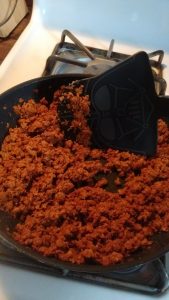 I'd like to say I then enjoyed my Father's Day gifts of the new release of the Who Live at the Fillmore East with some Dewars on the rocks after I got the kids to sleep but instead just passed out myself as soon as they were down. Real talk, right??