By Harvie Staffer Julie Inman
Talk about a crowd pleaser that brings the WOW factor!  I took these to a 4th of July party and quickly saw my 'Merica platter being passed around the room cocktail party style, serving up these fresh little bites to the curious guests.  What I love about them is their simplicity, crunchy freshness and versatility – they can be topped with any ingredients you like, especially for themed parties! Almost anything goes with cucumbers!   
The ingredients are simple!  All you need is:
Cucumbers – any size will work
Hummus – your favorite recipe or our suggested recipe below*
Your favorite toppings
For this recipe, we used the following ingredients to create two different styles of Cucumber Boats, the Mediterranean and the Home Garden (see below!)
Carrots, shredded
Black Olives, sliced
Cherry Tomatoes, sliced
Red Onion, thinly sliced
Feta Cheese, crumbled
Sunflower Seeds, toasted
Basil, chopped
The Mediterranean Cucumber Boat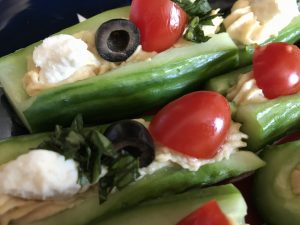 Home Garden Cucumber Boat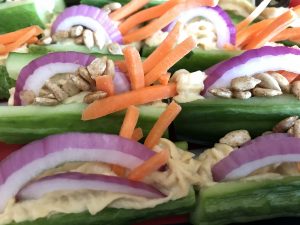 Lets get started!
Gather your ingredients.  I always find this helpful as it makes your prep go so much faster when you have everything in front of you ready to go!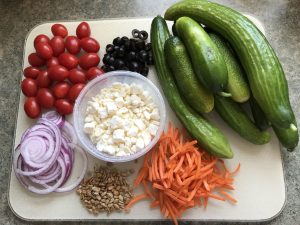 Slice the cucumber in half and scoop out the seeds.  This creates the "boat" affect. Cut the slices up into bite-size pieces in any size you desire.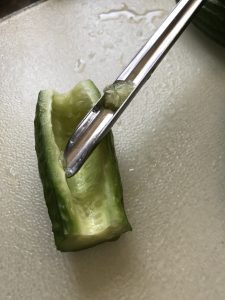 Fill the boats with hummus.  To make it easier and cleaner, I suggest using a piping bag with a plastic nozzle.  If you don't have one, you can fasten your own with parchment paper and a nozzle or by filling a plastic freezer bag with hummus and cutting a hole in the corner of the bag to act as the nozzle.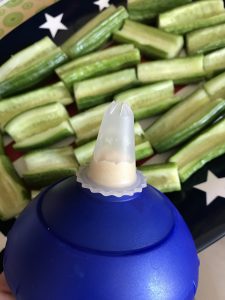 You will want to fill the boats enough so they "grab" your toppings well.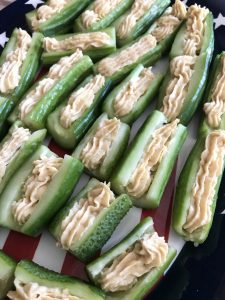 Add your toppings with the amount of ingredients based on the size of your cucumber.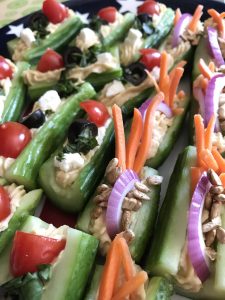 Enjoy!  Get ready to receive compliments on your creativity!
*Here is a classic hummus recipe we suggest!  https://www.bonappetit.com/recipe/classic-chickpea-hummus