We've been doing a lot of thinking about how to build a food supply chain that works for everyone involved, and it's challenging work. After hearing from members and producers, we took a step back and the Local Grocery Box stepped up. Before the Local Grocery Box at Harvie Farms Pittsburgh, we offered various subscriptions for vegetables, meats, and add-ons like coffee and bread. It was a lot for our members to keep straight, and we questioned how scaleable that model was. Now, with the Local Grocery Box, our Pittsburgh members can get their entire grocery haul all in one subscription and we can better support more local producers. By having one subscription type, we can purchase more regularly and consistently from producers so that they can count on us as a market for their products.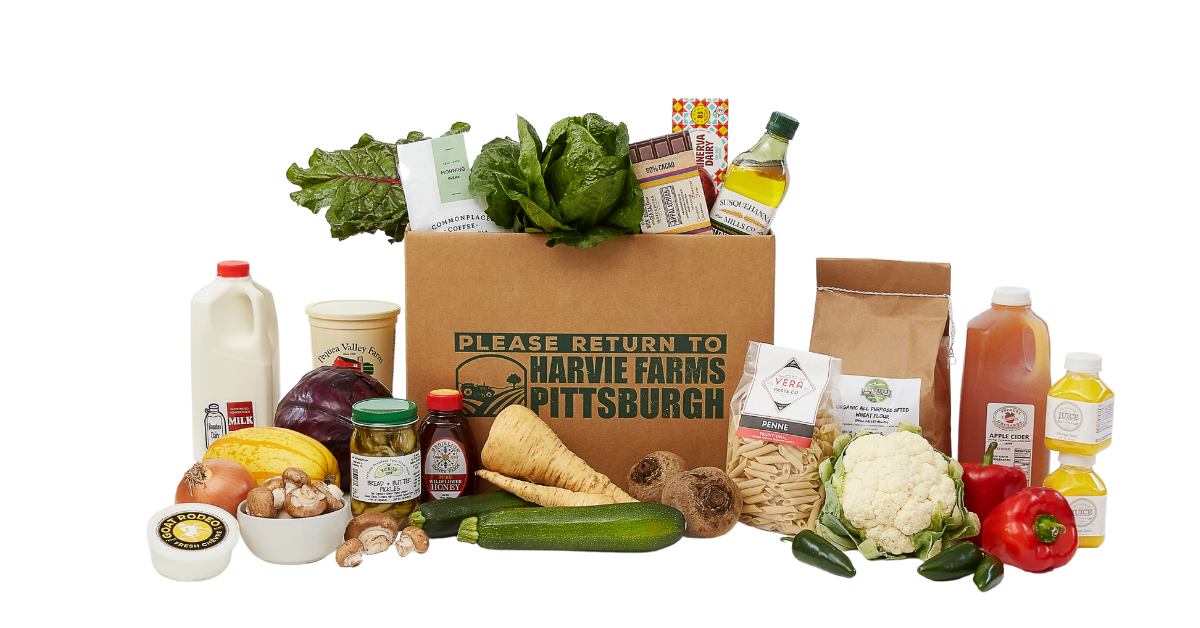 For members, it's like ordering online from Whole Foods, except every single item you purchase is carefully selected from small, regional producers and curated to fit your tastes. The Local Grocery Box comes in five sizes so that members can order as much food as you need each week; choose from vegetables, meats, pasta, preserves, beverages, snacks, dairy, and more! Add exactly what you want in your box, and then wait for it to be delivered to your doorstep. The Local Grocery Box subscription also comes with unlimited delivery skips, meaning that you can easily create a schedule that works for you. Going on vacation? Still have plenty of food from last week? No problem, just skip a delivery with the click of a button. 
How we spend our money and how we eat have direct results in the world. We can shape a more sustainable future by supporting small, family-owned farms and artisans with our grocery budget. Members can be confident that their dollars are going right back into our local food community; 50-60 cents of each dollar goes directly back to our producers compared with an average of 14 cents going back to farmers in the national grocery system. Additionally, our members help provide local jobs in the Pittsburgh area. This is impactful change. 
By personally scouting for producers in the area, we've been able to bring on a wider selection of groceries to fill our member's tables. One example is Yarnick's Farm and Greenhouses in Indiana, PA. Simon went to visit Dan Yarnick's farm last week with a few members of the Harvie team, and Dan is so excited to bring his products to Harvie members in the new Local Grocery Box! We've got his hydroponically grown tomatoes for sale on Harvie Farms Pittsburgh right now. Dan has over 50 years of farming experience and has invested heavily in his operation to grow this quality product. With Harvie Farms Pittsburgh, now he can sell to his local community instead of shipping his tomatoes to New York City! 
For us at Harvie, the Local Grocery Box is a tangible step towards the food system we envision. Learn more about the Local Grocery Box here, and if you're in Pittsburgh, we hope you'll join us in the revolution!