By Stefanie Jaeger
Mike at Steel Pony Farm, located in Red Deer, Alberta Canada came into farming in a unique way considering he grew up in the city, never thinking about farming. I asked Mike if he had a clear "ah-ha" moment that directed him to the path he is on and he said "Absolutely, I have an ah-ha moment. Let me tell you about it."
It started with a trip to a small village in Kenya and ended with a deeper philosophical question about where food comes from and the lack of connection we have to our food in much of North America. Mike recalls a conversation in the village around a campfire where he was asked to tell them about his farm. "When I told them I grew up in the city and never had been to a farm, they were really shocked. They could not understand a life without farming. So then they asked me where I got my food from, of course my response was a grocery store. They proceeded to ask me where the grocery store farm was…."
This was the moment the "stars changed" for Mike. He made a commitment upon returning to Canada that he would at least spend some time on a farm to understand about where food comes from and spent the next year interning on a farm in Quebec. The next decision was easy, as he tells me "When I came back to Red Deer, I knew I needed to come back and feed my community."
When asked "Why is farming important to you?" the first and most obvious answer is always about food. But Mike takes it a step further and sees it as a mirror to himself. He explains "For example, my lack of management skills on the farm is a direct reflection of my lack of organization in my head." He explains that while it'll always be about food, it has to be about more than just being really good at growing broccoli. Mike elaborates that "It would be boring in 20 years to think that I'm just good at producing broccoli. Like, so what? If I'm not a good person or I'm stressed and don't spend enough time with my family, does the broccoli really matter? I aim to be a well rounded person."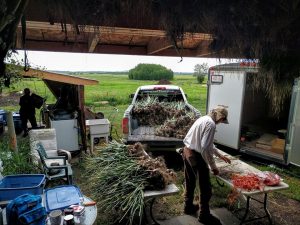 Mike says this year has seen a huge shift from last year. He explains "The feedback I'm getting right now is that it's a lot more valuable for people to be able to choose and customize what they want. It's been awesome to go to my first CSA delivery and see these familiar faces of past members who have come back because they found out they could customize their boxes and are happy to join again. It showed me that I wasn't necessary doing anything wrong before, we just didn't have the flexibility built into the program to give them what they want." He goes onto explain that he now has time to put the community back into the farm and do farm potlucks for the first time and work to have more meaningful connections with his members.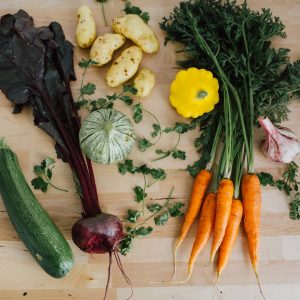 In closing Mike feels optimistic about the season and says "This year, I don't feel it's hard or stressful. It's been a shift in my mindset and it's now fun and rewarding and it feels like it is about more than the vegetables."
Mike Kozlowski, along with is wife MacKenzie and son Adler, operate Steel Pony Farm in Red Deer, Alberta Canada, an 8 acre CSA farm. He plants 12,000 heads of garlic, loves rubbed kale salads and his favorite vegetable is whatever is in season at the time. He encourages simple eating with all his CSA members.
Follow them on Instagram
Follow them on Facebook
Check out their Harvie Profile Page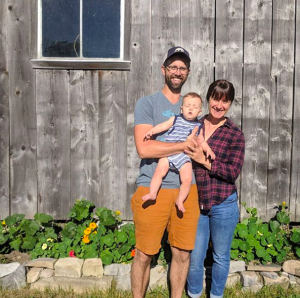 Mike, Adler and MacKenzie