By Stefanie Jaeger
Unlike a lot of farmers, Robyn Calvey of Park Ridge Organics in Fond du Lac, Wisconsin didn't grow up farming, but she can't imagine doing anything else at this point. With a background and career in forestry and environmental advocacy, Robyn found herself moving back home in 2006 after her parents started farming in the early 2000's.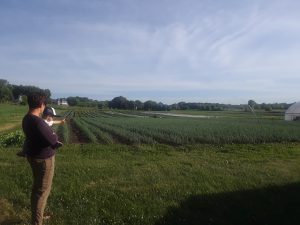 Robyn and her daughter Frances looking out over the field.
Robyn says of the early days, "My parents started to farm in 2003 with the desire to do something with their land that was really just laying fallow and they wanted to do something that could potentially bring an income. We laugh now because a market garden probably isn't where that would happen but they wanted a little roadside stand. It's not a beautiful story that they were hippies and wanted to save the environment or anything. They were approaching retirement and were looking for something good to do. This was 2003: the market for organic was just coming around the bend and they saw a window of opportunity and felt that certified organic was the way to go. They were also environmentally conscious people so it was also the right thing to do. In 2006 I moved home and introduced them to the CSA model after learning about it from my boss at the time."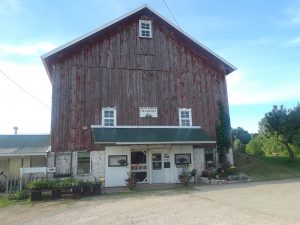 Pack house and office, Park Ridge Organics
To anyone out there thinking that sounds pretty easy, a cautionary tale awaits you. While Park Ridge Organics is now a successful 325 member CSA farm of 10 years, Robyn laughs when recalling the first year of starting the CSA.
"2007 was our first CSA year and we did awful. I had to call all the members the 2nd week and tell them we don't have anything, we picked everything the first week. We had 13 members, most were family members or close friends. I remember picking all the broccoli and thinking "I don't know what we are having next week" so we took a year off and came back in 2009 and did a reboot and started with 34 members. 5 of those members are still with us, 10 years later."
Ask any farmer and they'll tell you it's about more than just growing vegetables. There is a vital connection to the land, the community, and to the people who eat the food you grown.
Farming is important to Robyn because "Agriculture is the root. We all eat, our food system is out of whack and I don't expect that we'd move completely to a localized food system but people can understand the higher value products that you can get from a local food system. It's fresher, less steps along the way to get to the consumer, and that is a higher value to me. I am big on providing a liveable wage for my employees so it can be a sole job for them and they are turning around and shopping at local stores and restaurants. Even choices we make on the farm – we could buy bags on Amazon but we go to this little store in Fond du Lac and we buy from them. We've talked about getting them cheaper elsewhere but that little old lady who runs the store asks me how my daughter is doing when I stop in to buy stuff…that matters. This circle is important."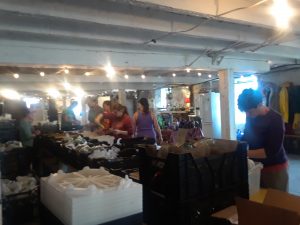 Robyn and her staff on the pack line of their first Havie shares
Just as our food systems have changed dramatically over the years, the way consumers are experiencing CSA has changed to. The traditional CSA model had always been for members to pay the full cost upfront, get what the farm grows with no say in what they might get, and hope there was no crop failure.
When asked about the future of CSA she says "The last few years people have been very doom and gloom about it (CSA) and that it's plateauing and really, I think that is ok. I think if you aren't changing with the trends in the consumer world then you are missing out. The trend is to go more customized. Why wouldn't people want more of what they like when they are pre paying for it? I think it's completely ok that it is changing. It's still the CSA model; it's not the original model of everyone getting a bushel of apples and that's ok. That steers people away. Did they really want that bushel of apples or 20 bundles of kale in a 2 week period? I don't think so."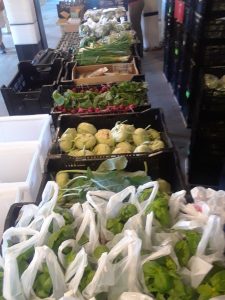 Pack line for the first Harvie delivery of 2018
As Robyn's daughter Frances is bouncing around on her Mom's lap trying to join in on the conversation and running around the pack house with her dad, Robyn reflects on the biggest lessons she's learned on the farm over the past ten years.  
"You have to take moments to remember why you are doing it and separate yourself from the business part. Because if you get so caught up in trying to do everything right, it stops being fun. I do this with something as simple as walking to close up the buildings at night. I try to take a moment and look at it and be proud of everything here. I can get sucked into negative moments but I look around and those things aren't really a big deal. The bigger picture is that we are going to send out $9,000 worth of vegetables tomorrow that will feed hundreds of families in our community. They are going to eat Park Ridge Organics vegetables and that feels good. Being present but not too present. You can't control everything and not everything will turn out. That's ok."
No farm interview would be complete without a few fun questions so here we go:
Favorite vegetable to eat: celery.
Favorite vegetable to grow: also, celery.  
Favorite vegetable to eat fresh from the field: sun warmed green pepper, green beans and warm cherry tomatoes.
Favorite piece of farm equipment: red harvest knife, cell phone and the Harvie Website (as she laughs)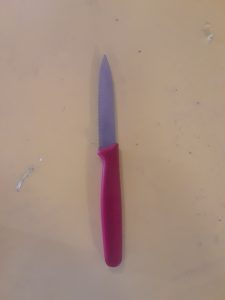 The infamous red knife
When asked if she has any final parting thoughts on life on the farm, Robyn says "Once I stopped worrying about the little things, you start to have better moments".
She agreed this could apply to both farm life, and off-farm life. Words to live by…
---
Park Ridge Organics is a 15 acre Certified Organic Farm in Fond du Lac, Wisconsin with 7 acres in production. They serve Fond du Lac, Appleton, Neenah, Elkhart Lake and Oshkosh, Wisconsin. Visit them at www.parkridgeorganics.com and find their Harvie profile at www.harvie.farm/profile/park-ridge-organic. You can also follow them on Facebook.